Welcome to Rotary District 6580!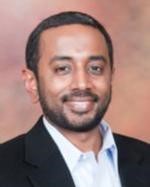 District Governor Santhana Naidu
I hope your new Rotary year is off to a great start! It has been a busy, but productive summer for me. We kicked off the new year at the district changeover ceremony on July 6th in Terre Haute and it was great to see 100+ Rotarians and family members at the event. I was also honored to be part of three club changeovers to support Presidents Megan Jennings (Vincennes), Erik Goodge (Evansville Sunrise) and Nick Mahurin (Terre Haute) as they started their new journey.
On July 12 & 13, I was at the Central States Rotary Youth Exchange summer conference in Grand Rapids, MI to celebrate the ending and beginning of exchanges for several of our district's youth. Thanks to Past District Governor Judy Bush (Bedford), outbound coordinator Meg Butcher (Franklin), Youth Exchange Officer Priscilla Scalf (Columbus Sunrise), and former exchange student Megan Gearhart (IU Rotaract) for all of their hard work to make it a great event!
My first official visit for the year was to the Washington club. President David Stowers is off to a great start with a membership chair in place, and they're looking at alternate/new membership types as a way to Grow Rotary! I was also in Evansville recently to meet President Scott Hurt and a group of Rotarians/school officials to discuss getting youth involved in Rotary. Finally, it was an honor to be with the Vincennes Rotarians on July 25th as they dedicated a new shelter at Kimmel Park. Congrats to President Megan Jennings, District Governor Nominee Kirk Bouchie and all the Vincennes Rotarians on their latest service project!
Few important reminders:
Member engagement grant applications are due by Sept. 1. Please promote this at your club and encourage your members to apply. More info at: http://rotary6580.org/member-engagement-grant.php
If you've not committed to RYLA yet, please do so quickly. For more info: http://rotary6580.org/rylaphp.php
District Assembly is on Oct. 19th in Bloomington. Please mark your calendars. More information will be coming next week via email.

Check out our Facebook (https://www.facebook.com/District6580) page to see photos from some of the events.
Thanks for all that you do to support Rotary!
Santhana